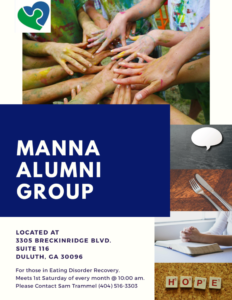 Young friends having a great time in restaurant. Multiracial group of young people sitting in a coffee shop and smiling.
Our Alumni group is for people in eating disorder recovery who are not in an IOP or PHP program. The group serves those stepping down from IOP as well as those who are receiving individual therapy or who have finished treatment.
Suffering from an Eating Disorder can feel lonely, and sometimes recovery can feel lonely too. In recovery, we are taught new ways of thinking that are against societal norms. Also, as we grow and heal we tend to outgrow some of our old relationships. In recovery we will still struggle sometimes and it can be pretty tough for those who have never experienced an eating disorder to really understand. Our group is made up of others in recovery, so we've all "been there" and know how to support each other. It's so much easier to keep fighting when you do it along side other people.
We typically meet the first Saturday of every month at 10:00 am, either in person or through zoom. We support each other through group texts in between. If you are interested in joining the Manna Alumni group contact Sam at alumni@mannatreatment.com